WEL's New Approach to Training Commended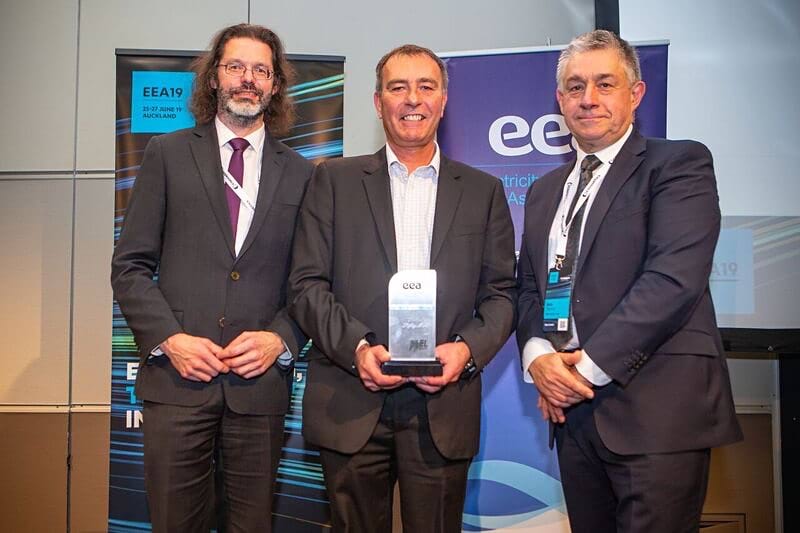 WEL Field Delivery Manager, Mark Keller (centre), collects the award from incoming EEA President, Dr. Stephen Jay (left) and outgoing EEA President, Bob Taylor.
A new internal WEL safety initiative has received a Workplace Safety Merit Award from the Electricity Engineers' Association (EEA).
'WEL Educated – a new approach to safety training', was recognised at the annual EEA conference in Auckland earlier this week, along with other awards for workplace safety, public safety and young engineer of the year.
WEL Field Delivery Manager, Mark Keller accepted the award and said it was encouraging for WEL to be recognised among some of the best in the industry.
Peter Berry, EEA Executive Director, said the awards were a chance to showcase the achievements and innovation of people and organisations taking the industry forward.
"Our awards recognise the people, companies and projects that are making our industry and communities safer and better," he said.
WEL Educated centres on using the skills and experiences of WEL staff to deliver safety refresher training. It uses a blend of authentic video-based and interview-based online learning resources to engage with staff on critical topics in a relatable way.
Staff can choose to undertake the training individually or in groups, and the learning material is easily accessible on any type of device.
Mr Berry described it as "modern and comprehensive" and "a great initiative with the potential for wider industry application".