SYSCON Controller and First Response Fault Technician strengthens business resilience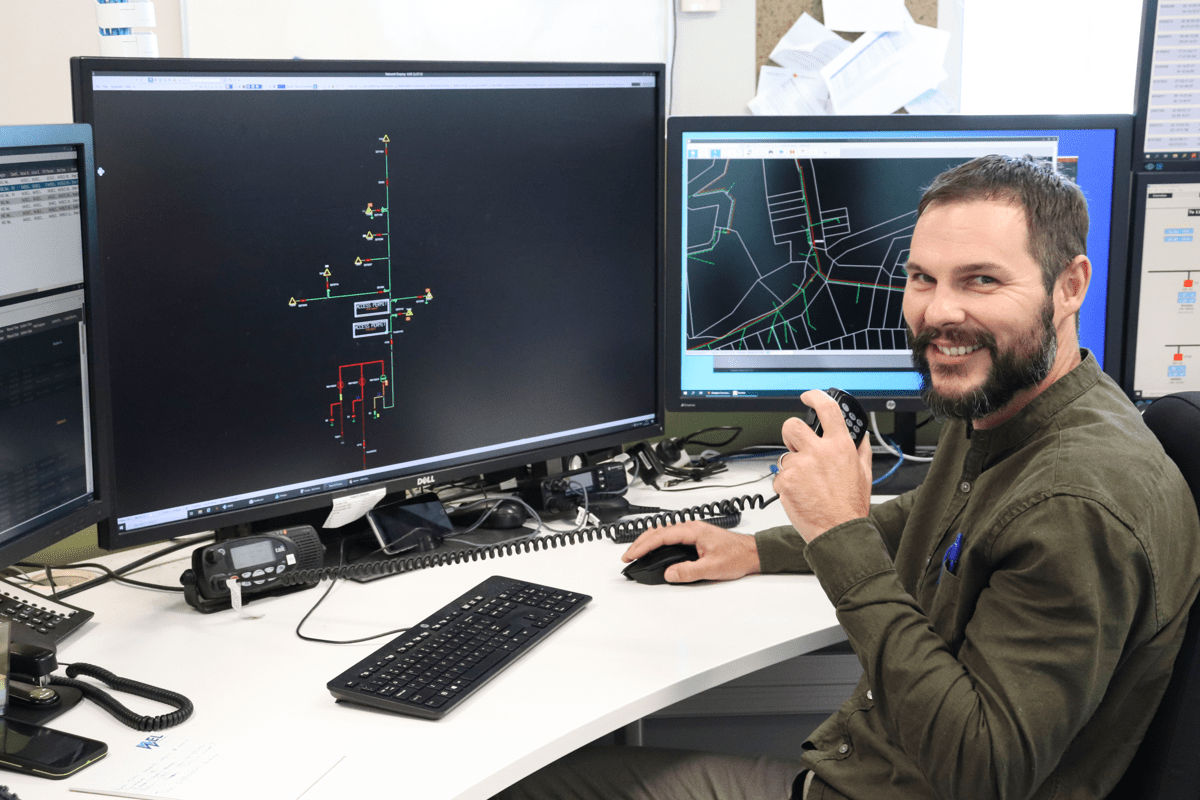 After seven months of training and assessments, WEL Networks First Response Fault Technician Dustin Wilson has become a competent SYSCON (System Control) Controller.
Joining the two roles of First Response Fault Technician and SYSCON Controller together as an Operator Maintainer is a first for the Company. While this has not only strengthened the resilience of the business, Dustin's success has also paved the way for further joint-role opportunities within WEL.
"I was given an opportunity to extend my learning so I took it. I wanted to get into the control room. I've really enjoyed the challenge that's come with it. It's a comprehensive and extremely involved role," he says.
SYSCON Controllers monitor and manage the network operations for WEL and Waipa's Network 24/7. The team manage planned and unplanned outages, maintaining network security to ensure electricity is delivered in a safe and reliable manner.
First Response Fault Technicians respond to and repair network faults; and assist in the operation, restoration and maintenance of the WEL Networks electrical distribution network.
An electrician by trade, Dustin spent five years in Australia working for a network company before returning to New Zealand where he spent time installing WEL Smart Meters as a contractor. Dustin joined WEL as a First Response Fault Technician in 2014.
"I've found my field knowledge of the WEL Network to be a bonus when dealing with day-to-day operational queries. Sometimes you know the exact location of the switch or pole they're standing at and you know the guys really well on the other end of the phone. I've got a lot to learn but I'm really looking forward to continuing to further my knowledge and extend my skillset," he says.
Dustin will continue to enhance his skills as a SYSCON Controller with a period of consolidation before going back to his role as First Response Fault Technician. Dustin will be put on a roster system and under the Operator Maintainer model will spend time in SYSCON and the field.
 "This milestone in the Operator Maintainer model provides resilience to the business through support as cover for both the SYSCON Controllers and First Response Fault Technicians; and flexibility to direct resources where best needed during high demand situations such as storm events and succession planning for business continuity," Network Operations Manager Steve Hull says.
"Dustin's success in this role is a massive benefit to the Company. It's brings a lot of knowledge, skillset crossover and helps strengthen the relationship between both areas of the Company. We're already seeing an increase in engagement and we've already made improvements to processes. It's a win-win," GM WEL Services George Pirie says.