You have the power to make a change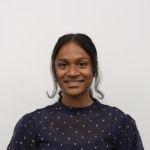 From NASA Space Camp to WEL Networks, meet Graduate Engineer Saranya Ramani.
"I've always been curious about science and maths. After spending a week at NASA Space Camp when I was 12, I became excited about science and innovation and didn't stop challenging myself. Engineering is fascinating and it's challenging. You can contribute and you can make a change. It's worth the hard work you have to put in to get here," she says.
Originally from Mumbai in India, Saranya graduated from the University of Canterbury with a Bachelor of Electrical Engineering with Honours and a minor in Power Engineering in 2021.
Saranya has a particular interest in the uptake of low voltage renewable technology such as electric vehicles (EV) and photovoltaics (PV) and their impact on the distribution grid. 
"New Zealand operates a very unique electricity grid. In fact we have an HVDC link that connects the North Island with the South Island running on more than 80% renewable generation which is higher than most countries. This provides New Zealand with an opportunity to explore research and innovation in various areas of electrical engineering," she says.
While studying, Saranya was a mentor and a mentor leader for first year university students. She is also an Ambassador for GirlBoss New Zealand, Wonder Project and STEM (Science, Technology, Engineering and Maths).
 "I see it as a responsibility more than a choice. When you have the knowledge and the power to help someone else - why wouldn't you? Life is about people. I like talking to people and learning from them. Being part of these organisations helps me give back to the community and inspire the young generation of female innovators," she says.
In May, for 6-8 weeks as a Wonder Project Ambassador, Saranya will help teach Year 5-6 students at Vardon School to build and launch their very own water rocket.
The challenge is all about fuelling curiosity for STEM fields among young kids by teaching them rocketry, teamwork and creative thinking.
"I'm really looking forward to being part of the programme," she says.
Saranya was a mentor for Girl Boss - New Zealand last year.
"It was really fun. I was chosen to mentor three high school students. I spent time with them by talking about their future aspirations and the scope and potential of the STEM industry. I still keep in touch with them in case they ever want advice or need my help. This programme helped me form a great relationship and inspire them. They all have so much energy. It was great!" she says.
When Saranya isn't at work, you'll find her exploring the outdoors.